Autumn delights us with its warm colors, earthy scents, and cozy afternoons, wrapped in a blanket, a warm beverage in hand. This season, which inspires comfort, is perfect for indulging in a cozy moment commonly known as "cocooning."
But why do we value this practice so much? In an era where everything moves quickly, it's important to set aside moments to pause, reconnect, and allow oneself to do things we love without guilt. Cocooning should be primarily synonymous with happiness and serenity.
Do you want to incorporate this concept into your lifestyle but don't know where to start? Plan your moment of respite by booking a treatment at one of our health and beauty centres. This will make it easier to honor the time you grant yourself. Moreover, the ambiance has been thoughtfully designed so you can unwind and savor every moment.
Ideas for a successful cocooning experience at Amerispa
While every treatment brings its share of relaxation, some of them are specially designed to provide you with an absolute sense of well-being.
Detoxifying Clay Massage
This soothing and hydrating massage relieves joint and muscle pain while eliminating the sensation of fatigue thanks to the minerals contained in the clay.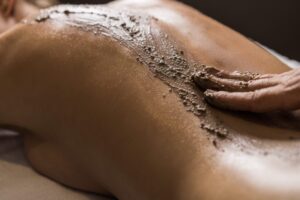 Warm Pebble Massage
Rejuvenation and relaxation come together for this idyllic relaxation break in October. Rediscover the benefits of a massage that alleviates muscle pain and allows you to relax and recharge your energy. Hot stones will glide across your skin from head to toe in long massage strokes. An unforgettable moment of relaxation that acts as a balm for the spirits during cooler times.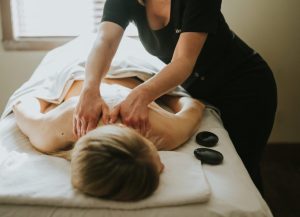 Labrador Tea Foaming Exfoliation
An ideal treatment for a gentle transition between fall and winter. The foamy formula of this exfoliating scrub gently exfoliates, while the Labrador tea with its toning and antioxidant properties leaves your skin healthy. A light nourishing massage completes this highly soothing treatment. You will emerge from it filled with calm and serenity.